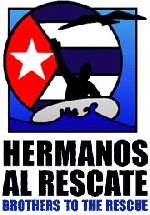 PRESS RELEASE
NOTA DE PRENSA
---
FOR IMMEDIATE RELEASE January 19, 1996

OPERATION "MARTIN LUTHER KING, JR.''
CONTACT: SYLVIA PASCUAL (305) 477-1868
On Saturday, January 13,1996, Brothers to the Rescue carried out operation "Martin Luther King, Jr." during which the City of Havana was blanketed with half-a-million leaflets urging the people of Cuba to civil disobedience and nonviolent resistance.
Taking into account the national and international reaction which this operation has had, Brothers to the Rescue believes it is necessary to clearly explain the reasons and objectives which motivated Operation "Martin Luther King, Jr.":
1) To honor the memory and the example of this great American fighter for civil rights.

2) To pursue a philosophy and a strategy of nonviolence which our organization has embraced as the ideal method to break not only the autocratic totalitarianism existing In Cuba today, but also the cycles of political violence that contributed toward its inception. Only by banishing the violence, intimidation, intransigence, and intolerance that characterize Cuban society today, can we, Cubans, rebuild a country where peace, harmony, and liberty prevail.

3) To make the people in the Cuban capital aware of the United Nation's Universal Declaration of Human Rights of which Cuba has sighned. Not having access to this declaration is in fact, a human right which is denied to the people of Cuba.
This operatlon was not an isolated, fortuitous event, but rather the continuation of recent nonviolent activities such as the attempt of our pilots to deliver legal assistance to the human rights activist Francisco Chaviano in April 1995 and the flyover in Havana on July of the same year in support of the flotilla which protested, in Cuban waters, the "13 de Marzo" tugboat massacre. These activities have run parellel to our humanitarian efforts.
Brothers to the Rescue:
Ratifies its commdtment to a national thesis of nonviolent struggle.
Affirms independence of means to achieve independence in our nation.
Proclaims injustice and irrationality as our only enemies; wo do not seek revenge, but true peace.
Embraces in brotherhood all those who are willing to severe the binding shackles of lies and hatred and thus, are willing to reclaim their fundamental human rights.
Manifests to every Cuban, everywhere, that tyranny prevails because of apathy, fears and egoism. Change must start with change in our own hearts. Change will follow and prevail as a consequence of changa within ourselves.